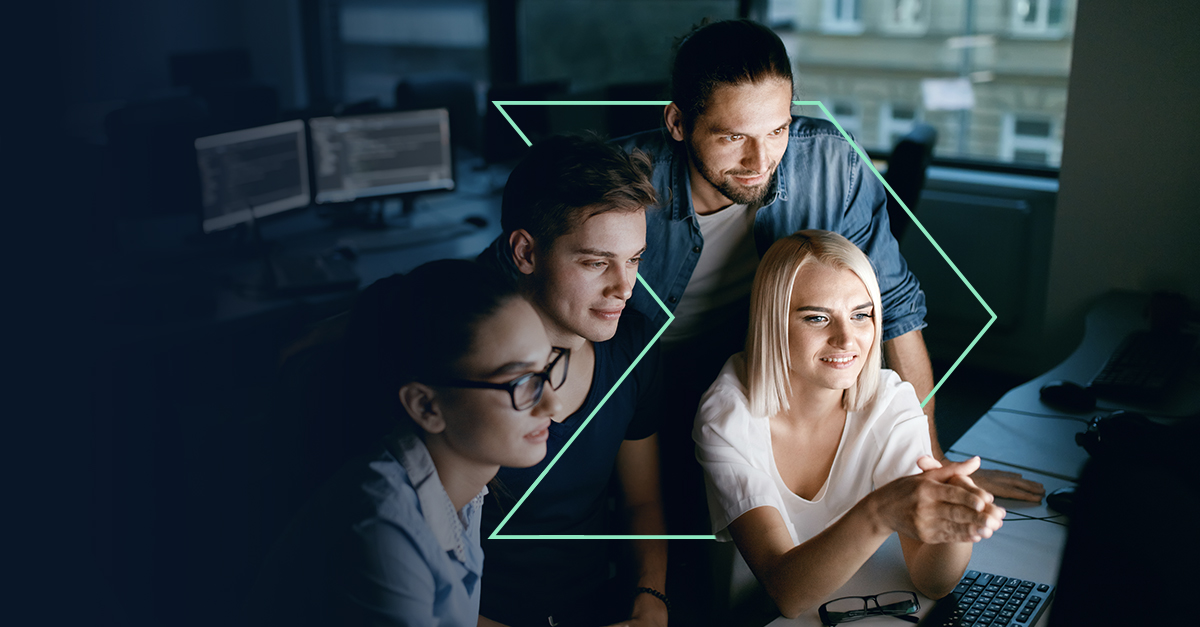 The competition for your customers' and prospects' time has never been fiercer; to compete, you need to differentiate. It's no surprise then, that marketers are increasingly turning to ABM to get a competitive advantage and help them capture critical clients. The most cost-effective way of achieving this is to upskill your existing teams into ABM experts – but how should you go about it?
This article will examine the vital skills you must develop, how to map the competencies of your existing staff and identify gaps, and how to go about filling those gaps to create a successful ABM team.
4 essential skills you must develop for ABM
Adapting teams to ABM strategies will require them to focus on a new range of skills. Here are the four most essential ones that you must develop within your team:
Leadership and cross-organisational collaboration
ABM requires the long-term buy-in of both your marketing team and your sales and account teams. Without both working together under the same leadership and vision, the initiative is unlikely to get off the ground. Sales experience, something many marketers lack, is of big benefit when supporting the sales team.
Building account relationships and strategies
Selecting the right accounts for ABM requires an in-depth understanding of both the accounts themselves and how the strategy can help develop them. Marketers must be familiar with and use all available data (both first-party and third) to assess opportunities and make the correct decisions.
Creating tailored value propositions
Marketers require research capabilities to learn what's really going on in an account, in order to turn corporate value propositions into real value for the client. They must be able to allow brand to take second chair to value – and know how to create and deliver value based on the needs and preferences not only of the client as a whole, but of each individual contact.
Analytics and attribution
ABM doesn't always produce results fast, so you need to do more than measure revenue if you want insight into how you're doing. The team must track and analyse engagement metrics to gauge if a strategy is working, and if not, how to change it.
What skills are you missing?
The experienced members of your team will already have many of the marketing skills you need – but that's not enough. ABM requires strong leadership, a head for strategy, and a willingness to embrace new technology and methods.
Each of the members of your team will have different strengths and weaknesses that will make them more or less suitable to perform ABM. Your next job is to assess their current strengths, what account based-marketing training they require, and what opportunities there are to upskill them for account-based marketing.
Assess each member on the following attributes:
Leadership and collaboration
Communication skills
Building account relationships
Marketing strategy
Data analysis
Value proposition creation
Content/creative strategy
Understanding of (marketing) technology
Analytics
Willingness and ability to learn new skills.
Once you've done this for every member, you will have a clear picture of the skills within your team. You'll notice that your team is probably strong in a few areas and weak in others – what areas these are will depend upon your current marketing strategy and the skills it emphasises. On an individual level, you'll also note that some team members are better suited than others, indicating whose roles are best expanded or transferred.
How can you fill your skills gaps?
It's unlikely your team has everything covered. What now? You have four options:
Option 1: Training
As ABM is still in an early adoption phase, it's unlikely your team will have significant ABM experience. Therefore, training is vital.
Look for existing skills and potential: the diamond in the rough. For example, a team member might have data analysis skills and a passion for marketing, but may not necessarily be familiar with ABM. These strengths indicate an opportunity for further learning. Here are some ideas for training:
Identify mentors and encourage mentoring.
Provide sales training for the marketing team.
Instigate weekly skill-sharing stand-ups – for example, using a data expert to research and present on the importance of data in ABM and a content strategist to learn and explain the role of messaging in ABM.
Send your team to events and conferences where they will learn from successful ABM practitioners, network with other marketers, and get inspired by experts.
Option 2: Look at other teams
Your sales team, in particular, might have some members with transferable skills who could join your ABM team. Another advantage to moving members in from other teams is that it can help increase collaboration.
Sharing resources in this way has significant practical benefits:
Your sales team have significant frontline experience in dealing with clients, something which is vital for ABM but which your marketing team may lack. Get your sales team to share how they engage with prospects/customers and how they connect with them on a day-to-day basis.
Your marketing team can provide significant value when scripting sales messaging, ensuring better consistency across all your marketing and sales engagements.
An added bonus is that sharing resources and knowledge in this way lays the groundwork for common goals, KPIs, and rewards – achieving this will lead to the most effective ABM implementation.
Option 3: Hire skilled specialists
As mentioned above, ABM requires specific knowledge and experience, and hiring experts can be an effective way of rounding out your team. Only add people to your team that have a deep understanding of ABM or can contribute as strong all-rounders; don't hire someone you'll need to spend six months training.
All-rounders should have traits such as curiosity, creativity, analytical problem-solving and ideally experience in both marketing and sales.
Practical advantages of this approach:
Bringing in marketers experienced in ABM will help inspire your team.
You can quickly build your ABM practice.
Your new hires can contribute to training your existing team members.
Option 4: Work with outside experts
Some businesses may choose to work with ABM experts as either a short-term strategy while they train their team, or even as part of a long-term strategy. Bringing in a specialist can be particularly helpful at ensuring your overall leadership and strategy starts off well.
Practical benefits of engaging third-party help include:
Their experience and knowledge will enable you to get a rolling start on your ABM project.
Finding a partner who can 'do' as well as 'train' will provide double the value – an instant impact on your project and a long-term boost to the skills of your own team.
The importance of taking action
Developing your marketing team to enable them to take on ABM projects will take time, effort, and leadership. No team will be perfect from the beginning, and, no matter which combination of the above methods you use, the team will need time to grow in expertise and confidence.
However, this should not dissuade you. With ABM still in early adoption, there is a significant competitive advantage to be gained by embracing it before your competitors.
If you are looking for additional support, why not consider an ABM workshop for your time. More information here.
Check out the ABM page here: https://moi-global.com/capabilities-abm/
Sign Up